Hire A Professional Junk Removal Company In Sydney Today!
Small and large businesses produce substantial amounts of rubbish from their manufacturing processes. This is similar to residential junk removal; however, they have to deal with rubbish that is produced at the workplace. The added difference is that commercial junk removal is usually done on a larger scale. For example, offices might have old desks lying around gathering dust, old copiers, or other electronic waste like computers, telephones, etc. Hiring a professional service for junk removal in Sydney can definitely help you clear up a lot of space and offer several benefits as explained in this article.
Advantages of Opting for Commercial Rubbish Removal in Sydney
Commercial rubbish removal in Sydney will have the expertise to remove the rubbish in a smooth and efficient manner.
The technicians at a professional rubbish removal service are well trained and have the necessary skills to get the job done in a smooth and effective manner.
This is a more convenient method of removing the rubbish from your office premises.
Offices tend to generate plenty of waste and a great deal of this waste can be recycled as well. In Sydney, the junk removal service will have the knowledge and resources to recycle and be more environment-friendly.
Attempting DIY for removal of the rubbish at the office can work out to be a big health hazard. Some of the common issues that could lead to a health and safety concern include coming down with allergies when coming in close contact with books or papers gathering dust, cuts, and bruises from removing sharp objects. There is also the risk of falling or hurting one's back from picking heavy objects.
Gathering all the junk in the firm and making several trips to dispose of it can be very time-consuming, as well as sorting out which items to recycle. Disposing of different waste in the right manner like recyclable items, hazardous items, and general waste will also require special skills and plenty of time. Doing all these by yourself can consume so much of your precious time, not to mention physically hazardous.
Disposing of waste using the wrong method can result in unhygienic conditions and lead to pests and rats. A commercial firm is bound to follow environmentally-friendly methods of disposing of waste.
The ideal office is one that is free from rubbish and is aesthetically appealing; especially for the clients and employees. Taking advantage of the services of a professional junk removal company in the inner west makes this possible.
One of the biggest advantages is that the experts will do all the work so that the firm can continue to work as usual without losing productive hours or suffering from a sore back or aching hands.
Hiring the experts in Sydney for junk removal will improve the brand image as well since a clean office free from dirt and junk is good for business.
Since businesses have the legal responsibility to dispose of the waste in the right manner and implement recycling methods, hiring professionals is a good way of fulfilling this legal obligation.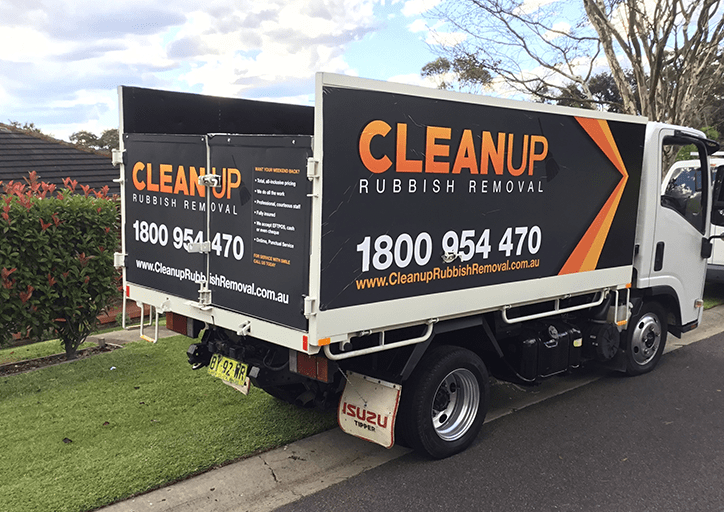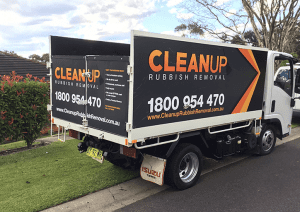 How to Find a Commercial Waste Disposal Service
It is a good idea to first figure out the type of rubbish you need to dispose of prior to finding a junk removal service in Eastern Suburbs. It is never a good idea to engage in blind calling without having sufficient information about the type of service you require. Junk removal firms in Sydney like Cleanup Rubbish Removal tend to offer a wide range of services like residential rubbish removal, commercial rubbish removal, green waste removal, hotel waste removal, etc. Here are a few tips on how to find a good commercial waste disposal service:
It is a good practice to list the firms offering the services you require and perform necessary research over the internet.
It is best to inquire about the methods of disposal of waste as well as their recycling policy of the firm you select.
A good way of judging a firm is by how well they present themselves.
Hiring a firm that is insured in the case of a disaster or accident is also a must; hence this is something one should look out for.
Select a firm that is flexible about the location. This is essential for firms that are spread out over the city.
It is a good idea to be upfront about the amount of waste you need to dispose of and ensure the firm you select has the capacity to handle it.
Some of the other details to inquire about include the timeframe and cost of the services.
It is also a good idea to check the reviews of the firm and client testimonials prior to hiring one.
Cleanup Rubbish Removal offers commercial rubbish removal in Sydney and deals with large and small-scale rubbish cleaning. We are fast, efficient, and highly cost-effective. Our services extend to clearing unwanted office items like chairs, filing cabinets, desks, computers, and other electronic waste that offices tend to generate. We have the necessary resources and manpower to remove rubbish from your firm irrespective of the scale of the job.
The advantage of opting for us is that we have the ability to fulfill the necessary transport requirements as well as access to large trucks with up to 41-cubic-meter capacity. Another advantage of hiring us is that you only pay for what you use and we do not charge anything extra for recycling or disposing of items. All the staff members we employ are well trained, highly skilled, and very courteous; besides which, they are always in uniform!